Video message from John
It's the start of a brand new era here at John Greengo Photography. All aspects of my photography classes: creating, producing, recording, editing, and sales, are now being handled in-house.  By bringing all steps of the process under one roof I'm able to deliver higher quality classes and a more in-depth learning experience for you.
The Advantage To You
Every aspect of the class development is now done with you as the number one priority. With control over every aspect: content, delivery, time and editing, I am taking the steps necessary to create the very best product available.
Not having to fit my classes into a live production schedule allows me to present all the material that I want in the exact amount of time I believe it deserves. I will no longer have to spend my class breaks cutting material from the class because I had too much material for the allotted schedule. You can think of this new era as getting the directors cut on every class.
My ideas for new classes have almost always been warmly received and I can honestly say that I've never taught a class I didn't want to teach. However, there have been some classes that I've always wanted to present, but never made it to the production schedule. I now have plans to create classes that have long been on my bucket list.  Black & white photography and the long in-development tilt-shift class may soon see the light of day. I also see the need for some new lens classes with Canon and Nikon's new growing mirrorless collection, along with a class for Sony and maybe Fujifilm as well.
In fact I've already mapped out a multi-year plan for a host of classes covering a variety of topics. It's my goal to create a curriculum of classes that cover each area of photography to provide you with a holistic learning experience. Camera classes will likely remain the backbone of the collection. Photography classes will be produced in both long and short form to fit the needs of your unique photographic journey.
Smaller studio better production
Working in a large studio is a bit of a rush and definitely kind of cool, but having to adhere to the production schedule and get everything right in the first take is a big challenge. While my new studio is much smaller, I have much more control of the environment. If I make a mistake or something doesn't go quite right, I can easily do another take so that you, the viewer, get the best quality class that can be made.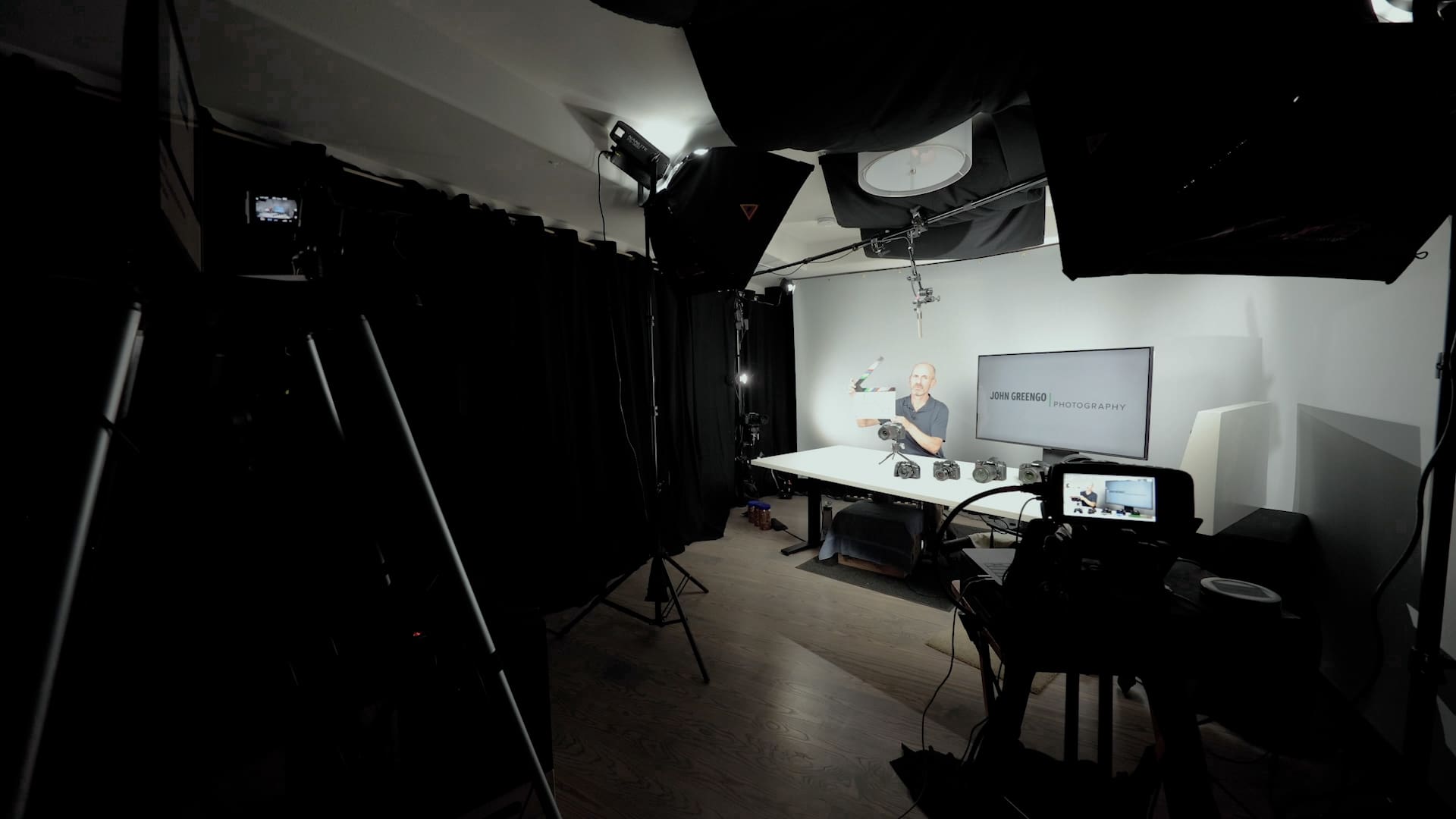 The new classes
I'm excited to start off with a bang and a bunch of classes. The inaugural collection of classes will include one photography class designed for everyone and six in-depth camera classes. Composition Essentials is my class for all photographers, no matter their skill level or style. This is the start of a new collection of "Essential" classes that will offer no-nonsense, to the point instruction and advice on a particular topic.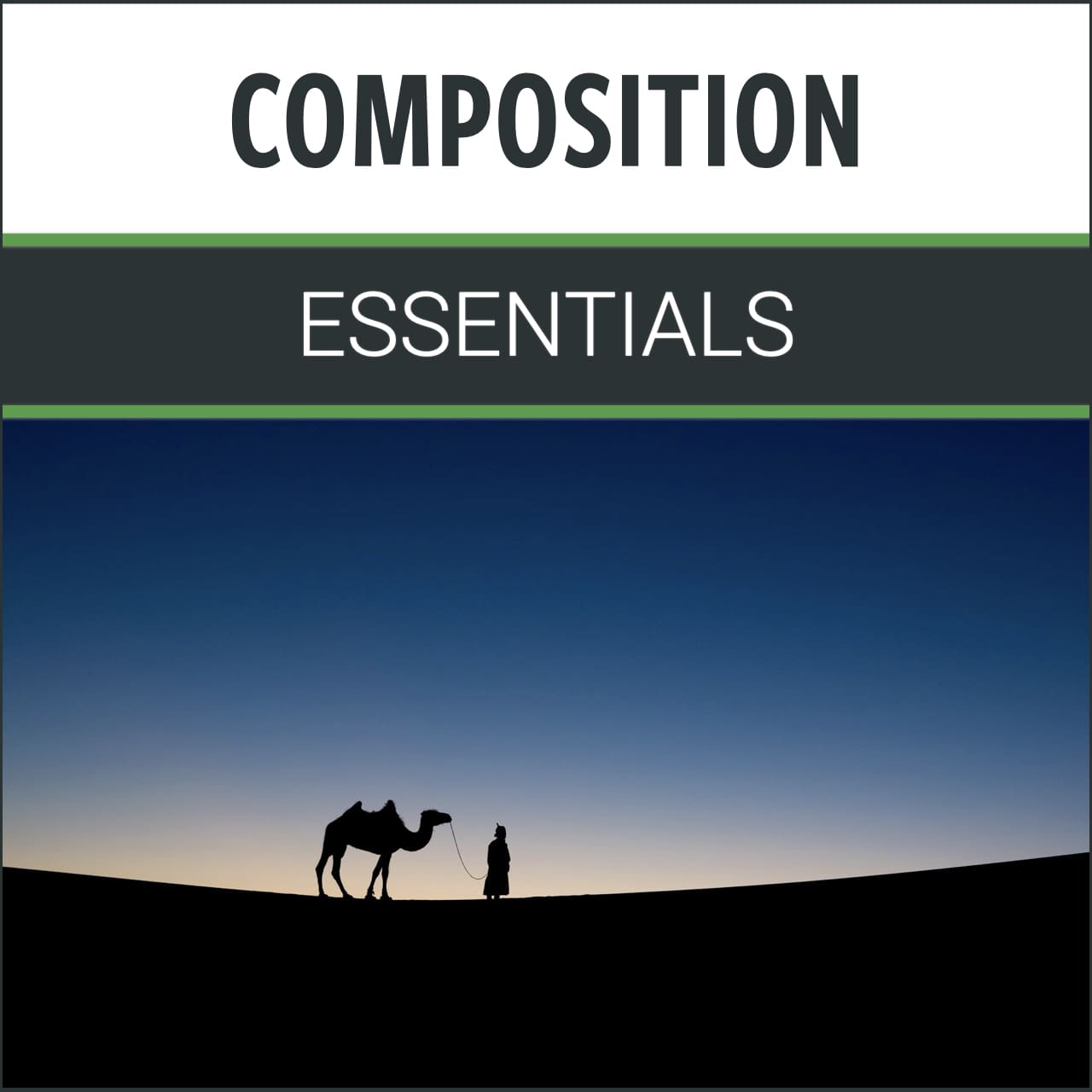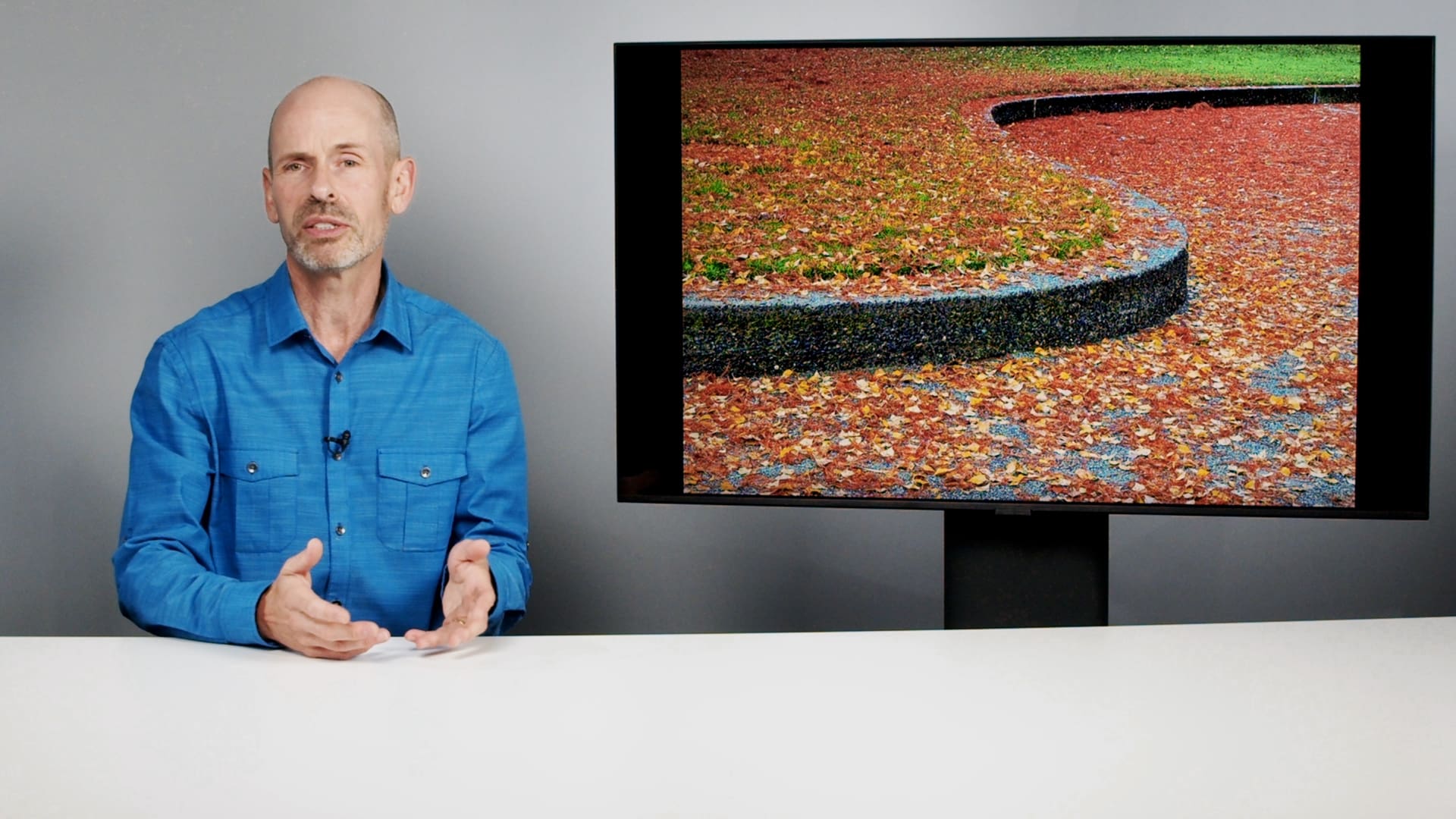 The camera classes fall into a different classification called Complete Guides; a class where I can throw everything I have into it. It will be the class for someone who wants to know everything about a particular subject. Now that I don't have time or content limitations I'll include everything I think will be of use to you. Classes will be longer and more in-depth than ever before.
The new Complete Camera Guides that we are introducing are for the: Canon R5, Canon 90D, Nikon D780, Sony A7R4, Fujifilm X-T4 and the Olympus EM-1 III. These represent the wide range of cameras I expect to do more classes on in the future.
There's a long list of cameras that I think deserve a class and I'll be working to catch up to demand as fast as I can. We'll continue to introduce new classes with an announcement via our newsletters. We're hoping to have exciting announcements in every one of them. As for what cameras are on my to-do list? Well just about everything! First I'll be focusing on popular cameras in the mid to upper end of the market. The only one I'll let you know about for now, is kind of a no-brainer (hint: I have a Canon R5 class), is a class on the Canon R6.
For those of you new to my camera classes, my Complete Camera Guides are an in-depth tour of a camera with every feature explained and advice given on the setup and operation of the camera. I've redesigned the layout of the class from previous offerings to offer a more structured development of ideas and to make it easier to review a particular topic.
These classes are what I've always wanted as I was coming up through the ranks in the world of photography. I know that photographers put a lot of thought into choosing the camera that is right for them. It only makes sense that with an investment of this magnitude, it's worth your while to learn how it operates and how to get the most out of it. These classes should serve new users that need help with lots of features and operations as well as the more seasoned veterans that are most interested in the finer points and arcane options that might improve their experience with the camera.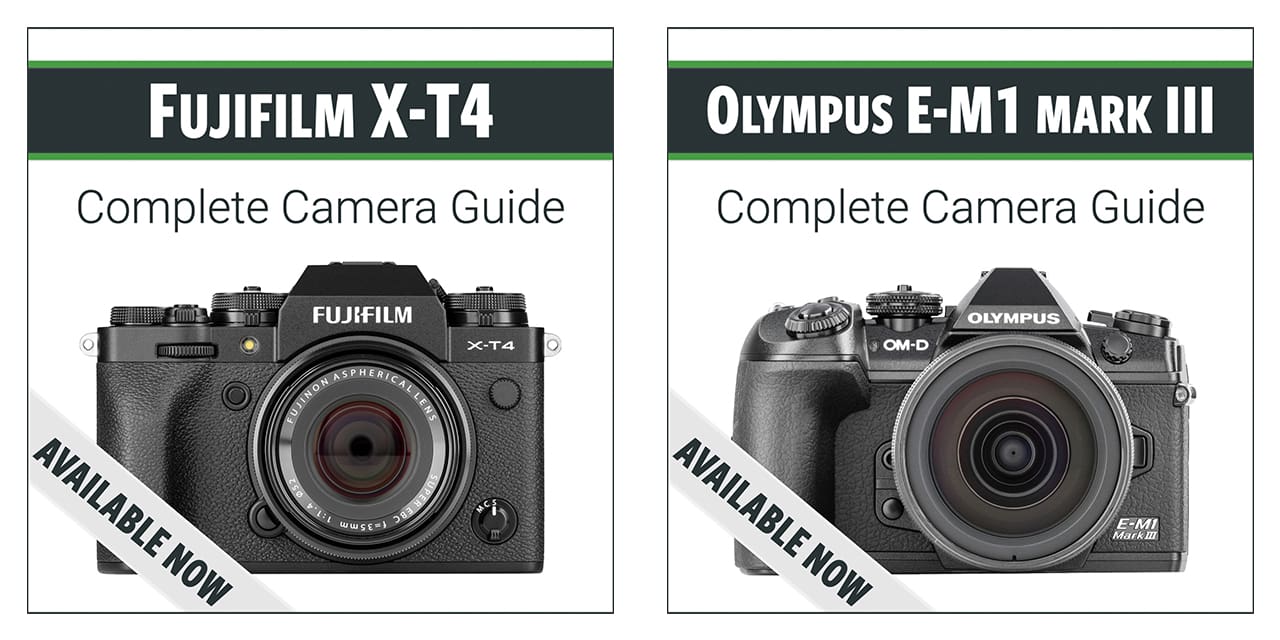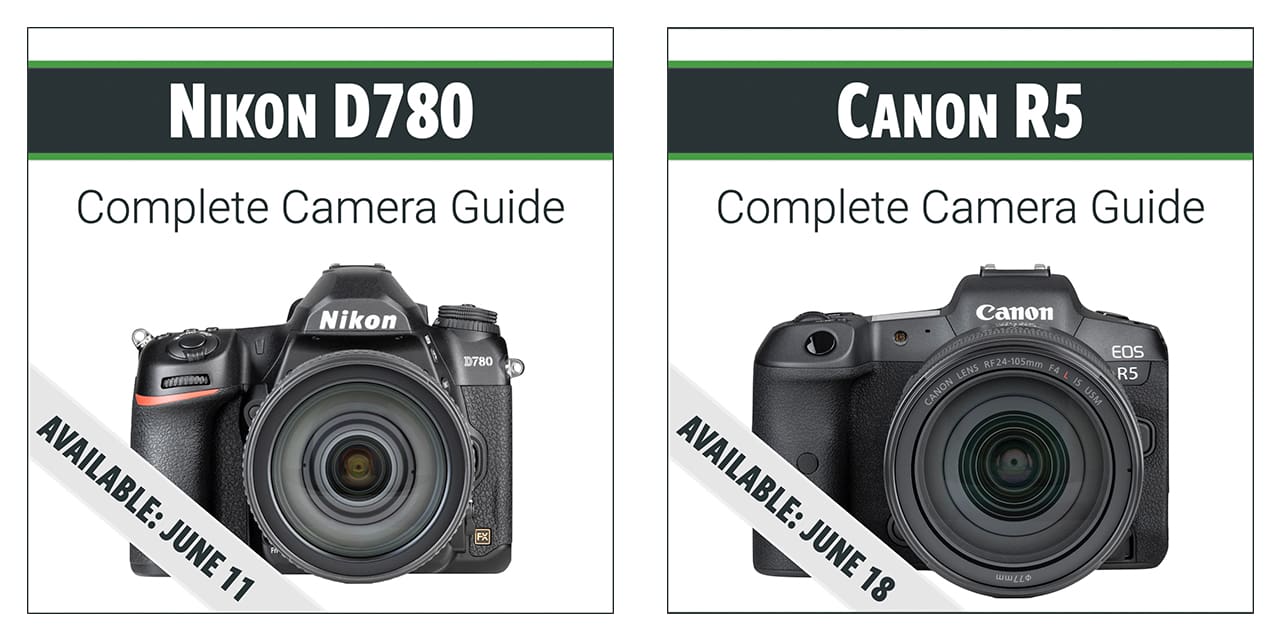 The new studio
My new studio for recording classes has been in the works for a long time. It started more than a year ago when my wife and I started looking for a new house. Perhaps the most important make-or-break element of our new "forever" home was the ability to house a studio. The house we fell in love with had a mostly perfect option for a small studio. Downstairs a guest bedroom with an enlarged closet could easily be turned into a studio and equipment room. The concrete floor would mean tripods wouldn't shimmer if someone was walking around the house and the positioning of the walls and windows meant a minimum of sound interference. We could have used a bit more ceiling height and a few more feet of floor space, but we feel what we have allows us to deliver first-class content with no distractions.
My wife Michelle, made the sound curtains to dampen any echos while I created a cyc wall so that we could shoot from multiple angles with a clean background. I spent way too long creating the perfect prop shelf for me to have something to focus on in my camera classes. You can look to those props for hints and clues to what I enjoy about life. We took advice from outside studio, video and audio experts all to make sure we were putting together a quality working studio.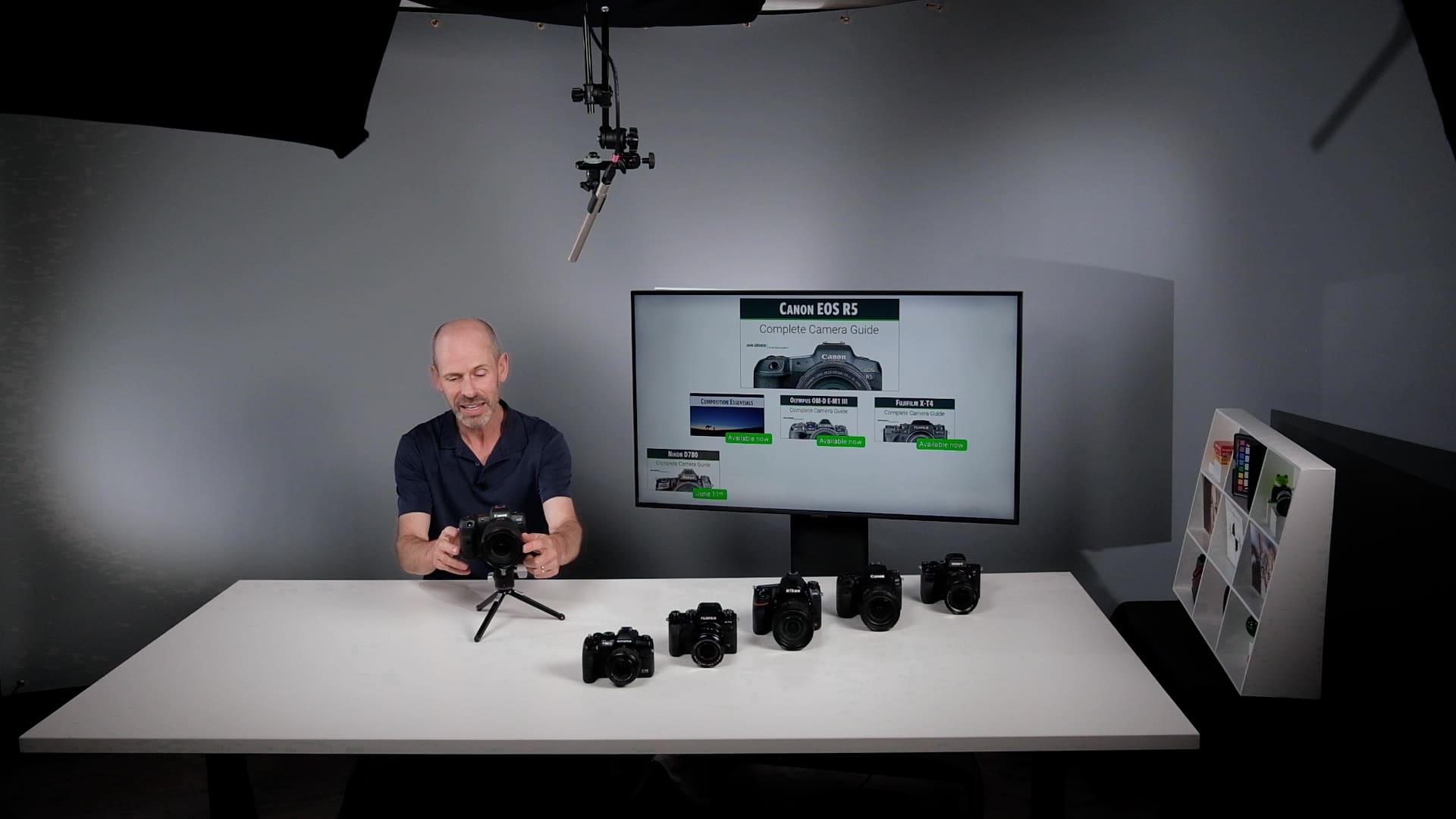 Setup and testing took longer than expected. It seemed that with every new item we implemented, there were several more items that would be needed to make everything work in a seamless manor. While I've worked in many studios over my career, this is the first I can call my own. For those thinking about putting together your own video studio, my word of advice, you can never have enough super-clamps, apple boxes or sand bags.
The beauty of our new setup is that we can get the studio up and running in less than 5 minutes. Getting started first thing in the morning is a breeze and choosing at any moment to film a second (or third) take is easy to do. There are improvements that we can already see that we'd like to make and I'm sure that the studio will develop over time.
The investment in time, money and effort is all to achieve the highest quality classes possible. Many people have said that my camera classes are the best they've ever seen. That's great to hear, but from my perspective, I'm striving to make them even better. I know there is lots of free tips and tutorials available all over the place, but these classes are designed for the committed photographer that wants to make the most of their investment.
Life has taught me that if you are planning to take a long journey it's worth your while to have good footwear to help you navigate that trip. Think of my camera classes as a quality pair of boots that help make every step of your journey a stabile and enjoyable experience.
First 3 Free
Anyone new to my Complete Camera Guide collection of classes may be wondering what does a 7-hour camera class look like. To give you more than just a peek into the class, the first 3 videos of each camera class is free to download (forever). Classes are comprised of 17 to 19 videos each covering a different topic. The first three videos (the free ones) are: Introduction, Camera Basics, and Exposure. While the first two sections are foundational in nature, Exposure is the first of several key sections that really dig into what the camera has to offer.
These first 3 videos should offer a clear look into what the class in its entirety will offer.
A new class format
After more than 70 camera classes and a decade of development I've reorganized the classes to make finding content even easier. Common camera topics are now grouped into sections that will make for a smooth flowing first watch and will make reviewing in the future easier and faster. All camera classes follow the same format so, for those with multiple brands of cameras, the first 11 sections will always be the same.
After a couple of short and simple establishing sections to begin with (1-Introduction and 2-Camera Basics) the real fun begins. The next three section are perhaps the most important of the class: 3-Exposure, 4-Focus and 5-Drive Controls. In 6-Buttons and Dials we tour the camera for other important functions and operations. Section 7-Viewfinder & Monitor takes you through the viewing options and in 8-Quick Menu we look at menu items that are both important and easy to access. All movie controls are discussed in section 9. Number 10-Camera connection is another tour of the camera this time discussing all the ports, attachments and options to connect with the camera. Section 11 is a quick overview of the lens options along with a few recommendations. Starting at section 12 we'll review each of the operations of the menu. Each group of menu settings are discussed in their own video. Explanations of each feature, example shots and recommendation for usage are given throughout the sections. The final section Field Recommendations are some final thoughts and advice along with specific setting recommendation for a variety of shooting scenarios.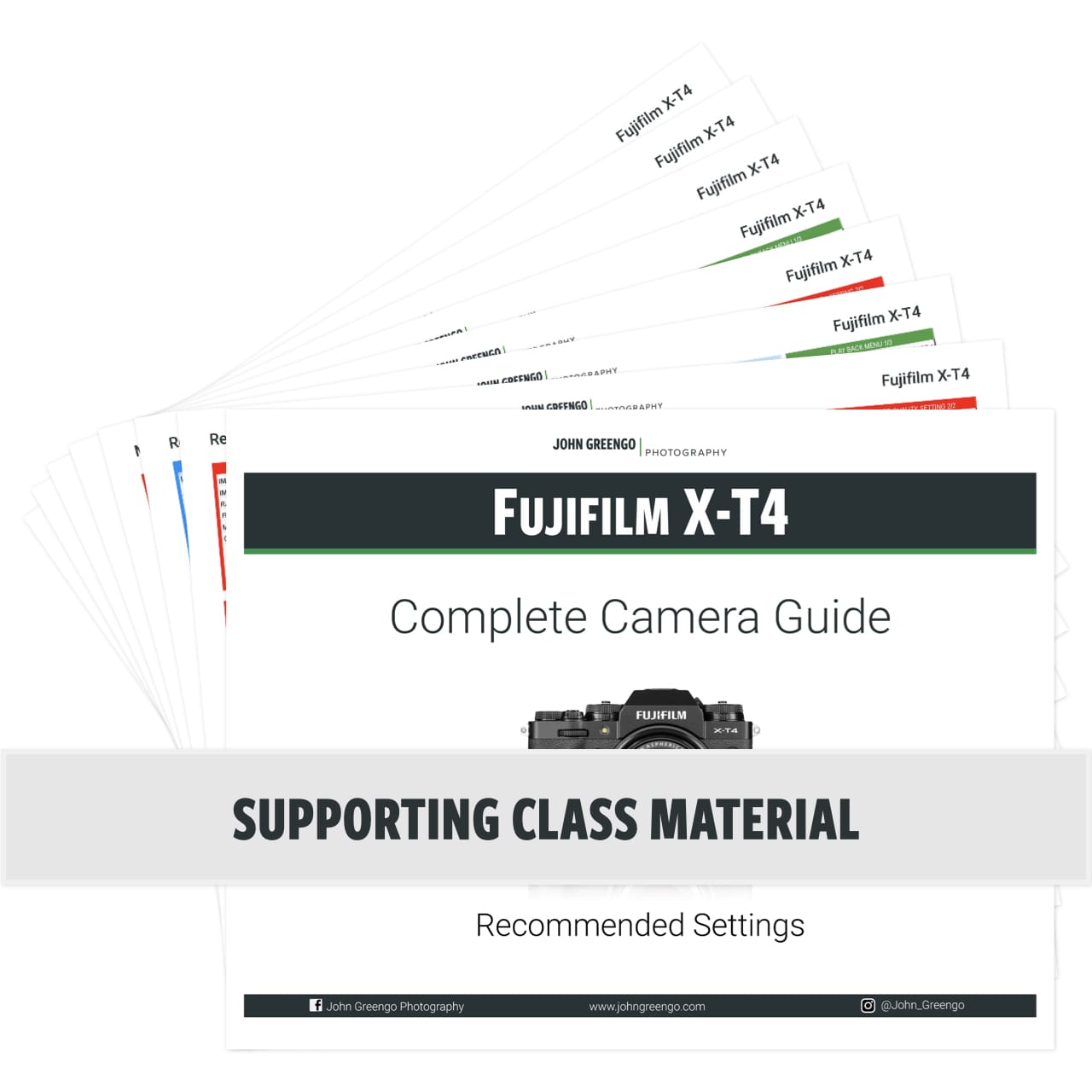 Every camera on the market today offers way more features than any one person will every use. It's not that we need to use everything our cameras offer, but we should understand if it's  useful to us or not. If it's something that can help us achieve our goals, then we should understand what it does and how to work with it.
By following along with your camera in hand you'll have the opportunity to experiment and test various features, as well as set your camera up for fast and easy operation. In the end you'll have a full understanding of everything your camera can do. In short, you'll be an expert! If you are "all-in" with your camera, then a Complete Camera Guide course is going to give you the education and knowledge you need to make the most of your photography.
The start of a new photographic journey
If you're wanting to partake in a new photographic journey I invite you to join me. The new studio and the collection of classes are just the beginning of a whole new photographic era.
---
Become part of John's inner circle
Sign up for the newsletter here – it's free.
Want to become a better photographer?
Check out John's selection of photography and camera classes here.