I've long said that one the best ways of finding good photographs is by walking around.
Lately I've been working on a photographic project where I take walks of 2 to 8 miles. These long photowalks are invigorating on many levels and something many photographers could benefit from.
The reasons why I think walking is so good; firstly — to see more stuff, and secondly — to make it as easy as possible to stop, explore, compose, and capture.
Most of my travel as an adult has been done with photography as the primary, or at least secondary, reason for the journey. I've traveled by means of: airplane, train, car, bus, cruise boat, small ship, long boat, yacht, canoe, dug-out canoe, pedal-powered canoe, kayak, helicopter, bike, motorbike, tuk-tuk, and a few other ways that I'm sure to have forgotten about. But far and away the majority of my favorite shots have come when I'm on my own two feet.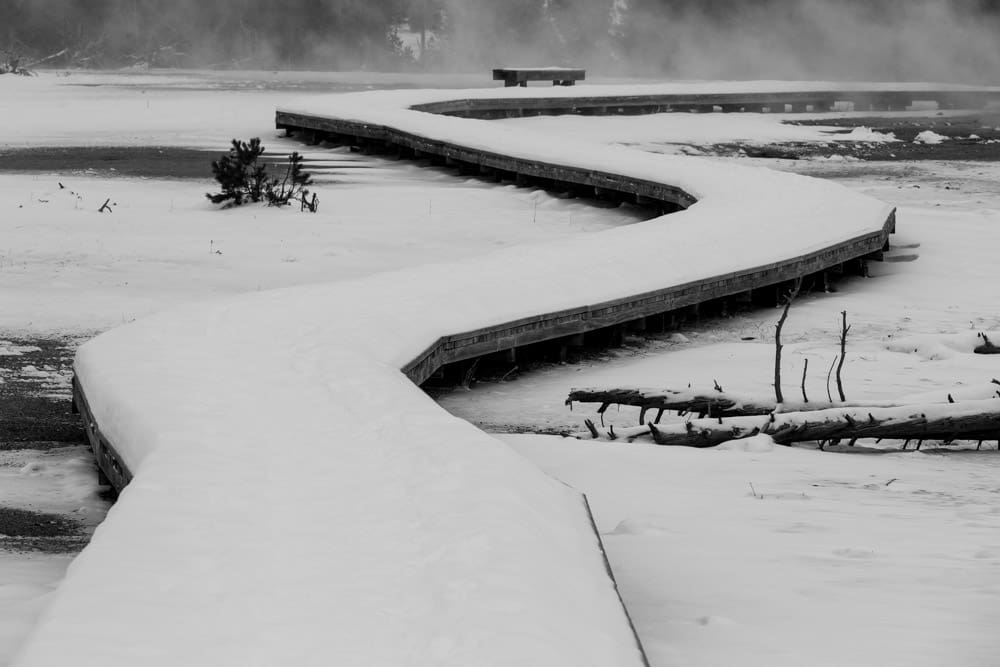 I'm a bit biased with my walking fascination because it's so effective for two of my favorite genres of photography: travel and landscapes. I do acknowledge that there are many types of photography that are not conducive to walking around: basketball, air to air photography, and pretty much anything in a studio, are the first few to come to mind. Clearly some types of photography force you to be in one specific place to make it happen, but that's not what I'm talking about here.
Generally speaking almost every type of photography is best when the photographer has a bit of wiggle room to move around. The ability to adjust your height and move left or right as well as forward and back, by even the smallest of amounts, can be a huge benefit to the composition and thus the final photograph. As photographers, we tend to be picky about the smallest of details. Have you ever moved an inch or less because there was the smallest of distractions on the edge of your frame? If you said yes, then you my friend are a picky photographer, and good for you.
Winter in Yellowstone
Once while at Yellowstone National Park in winter I was riding in a "snowcat" bus around the Old Faithful area. The vehicle featured tank like tracks and looked liked it was built in the 1940's with tiny windows for the passengers to see out of. From my middle seat I noticed out the window a group of trees that looked very interesting. But this vehicle, being part of the public transportation system, meant that stopping for a photograph wasn't an option. I made a mental note of the location so I could return later.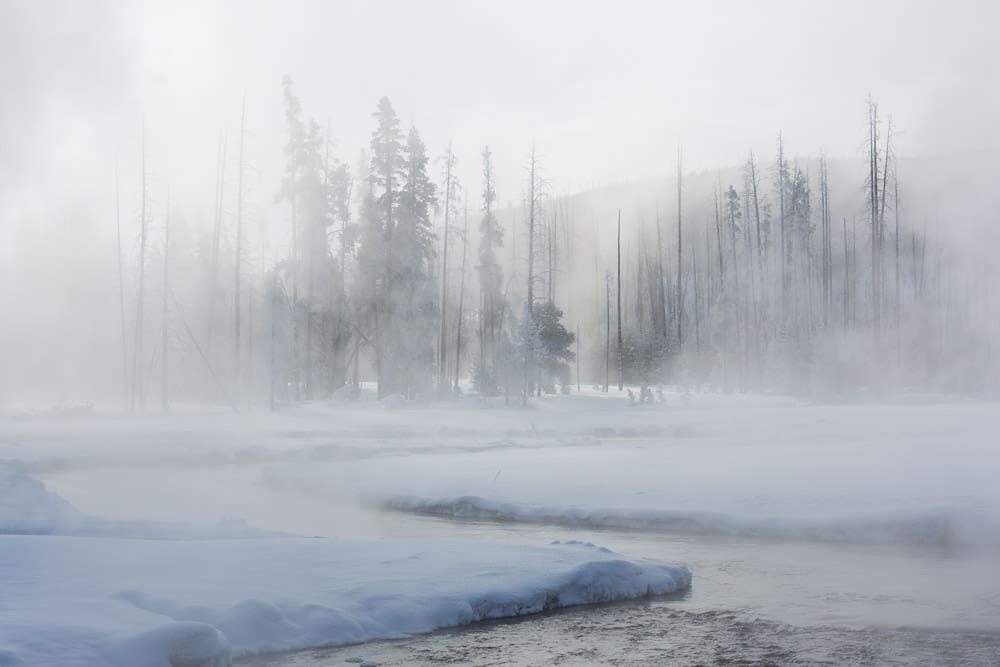 The next day I walked the 2 miles back out to the group of trees. Arriving on the scene I was profoundly disappointed. Apparently my brief limited glimpse of the scene and my resulting mental extrapolation of what might be possible was nowhere near reality. Just like many other of my life's carefully laid plans, this one was not panning out the way that I had imagined.
Having your dreams dashed is hard on the soul. Being denied the chance to achieve a goal you've set your mind to, can be hard to digest, even for something small like a single photo. The challenge is to let the old dreams go and turn your attention to the new opportunities now staring you in the face.
The area I saw from the snowcat, and what I now could see before my eyes had potential, just not the potential that I had been imagining. At least my instincts were correct, the area was fairly interesting from a photographic point of view.  The new goal was to figure out what in particular was interesting, and capture that in a photograph.
Free to roam on foot I had the opportunity to explore the possibilities. I was somewhat limited by the deep snow and the realization that I didn't want to trample an area that I wanted to be part of the shot. Moving back and forth on the road I found a new scene that I could get to. The snow was deep and my movement was limited. Sometimes it only takes a little mobility to inspire your creativity. In the end I got a shot I'm quite happy with, but wasn't anything like what I had in mind in the snowcat.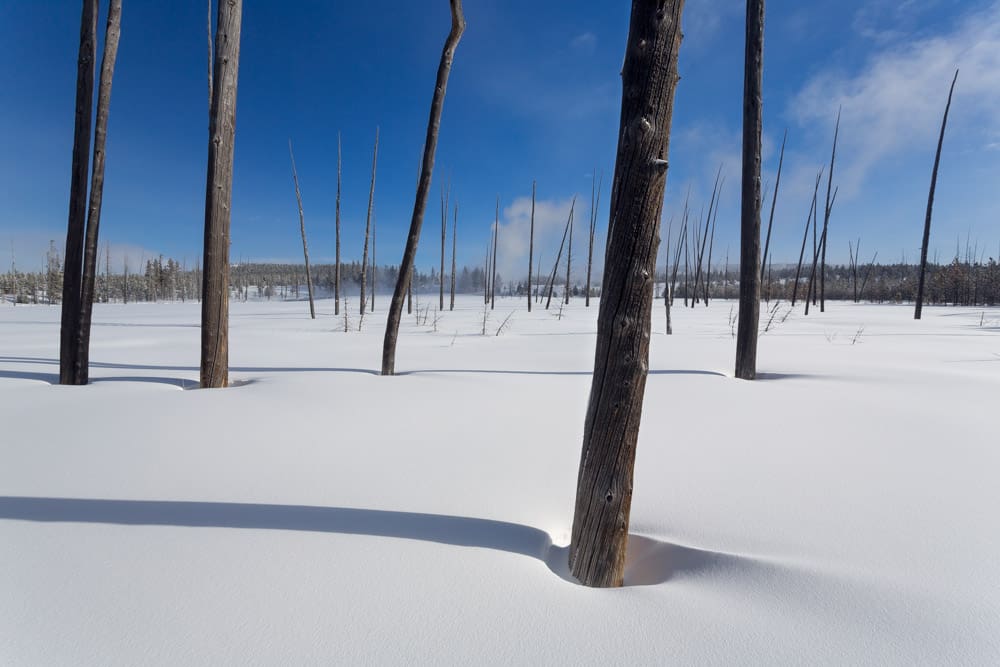 Good for you and easy to do
Walking and photography go together as well as two completely different activities can. Walking is a great exercise that's good for the legs, heart, and lungs. Adding photography incorporates the eyes and brain for a full body workout.
Every region, whether urban or rural, features opportunities for interesting out-and-backs, loops, and point-to-point routes. Walking and biking trails are more common than ever before. Trail maps are easy to find at information offices, outdoor stores, and of course, online.
Every route will have something unique to offer; it all depends on what you want to see and photograph. My favorite type of route is along a shoreline. Whether it be a lake, a river, or a large body of water, the transition zone from water to land is likely to offer a wide variety of visual interest.
Having lived in Seattle my whole life I've come to know the numerous running and biking trails quite well. A good photographic route is a bit different; vantage points and subject opportunities are more important. In the heart of Seattle is Lake Union, a busy urban lake filled with numerous docks and marinas. The combination of land and sea subjects makes for frequent photographic opportunities.
On my recent trip to Sydney Australia, I had a wonderful walk on the Bondi to Bronte Coastal Walk which traversed the edge of the city and the Pacific Ocean while passing by several popular beaches. With options for sea-side or land-side subjects, a variety of focal lengths, along with an open and creative mind there will be no end to the compositions you can create.
My preferred camera pack for a walking journey is the backpack as it's the most comfortable way to carry gear on a long walk. Check out my previous article The Mythical Perfect Camera Bag for more thoughts on how to carry your camera.
Sometimes the photowalk isn't for capturing great photographs, but rather for scouting locations. A new walking journey will likely hold a number of good locations and could be great with proper timing or light. Use your walk to identify the places you want to return to at a later date. Take sample photos to confirm focal length, camera position and to remember exactly where to return.
I encourage you to seek out a new walkable journey for you to photographically explore. Be mindful that every route will be different depending on the season, day of the week, and time of day, so plan on making return visits even if the first time didn't fulfill your expectations.
If you're new to this or not in good physical shape, start with shorter non-hilly routes. Adding photography to a walk can add quite a bit of time to how long you will take. Be mindful when inviting others along as they might not be as interested in your photographic subjects as you are.
Now it's time for you to pack your bag and head out on a little photographic journey. If you have a favorite photowalk route I'd love to hear about it. Leave a comment below about a great location or tip you have about taking a long photo walk.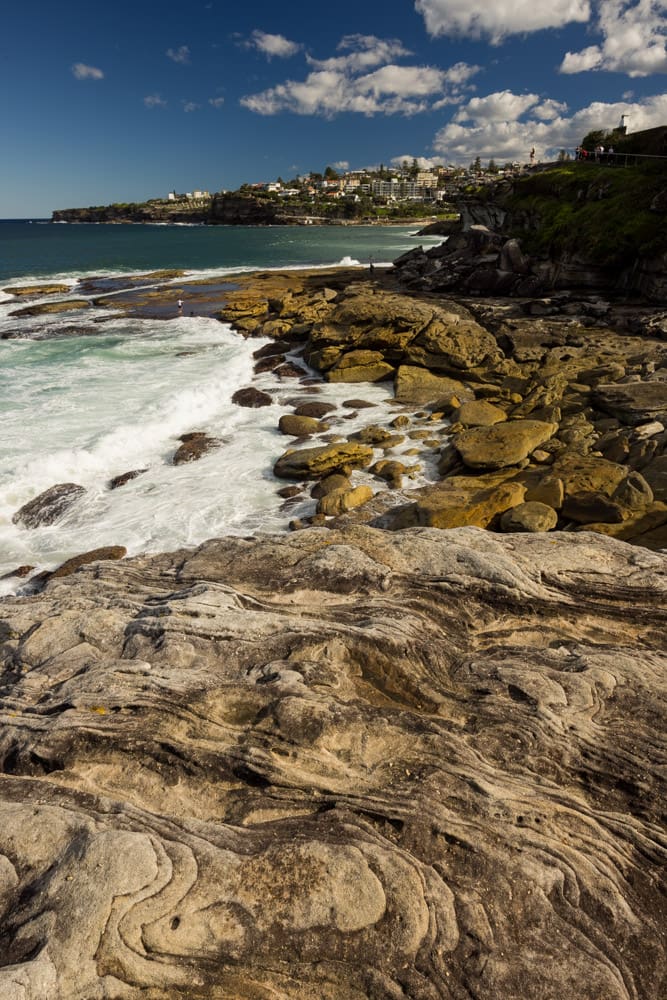 ---
Become part of John's inner circle
Sign up for the newsletter here – it's free.
Want to become a better photographer?
Check out John's selection of photography and camera classes here.