I love my hometown, but nothing gets my creative photographic juices flowing like exploring a new location. After a couple of years of staying close to home, for a number of reasons, I've started to venture outward again, most recently to Sydney Australia and beyond.
My two-fold reason for this trip was to visit my wife's hometown, along with friends and family, and to see if Sydney would make for a good photographic tour destination. The short answer to the tour question is: Sydney will indeed make for a fantastic photo tour.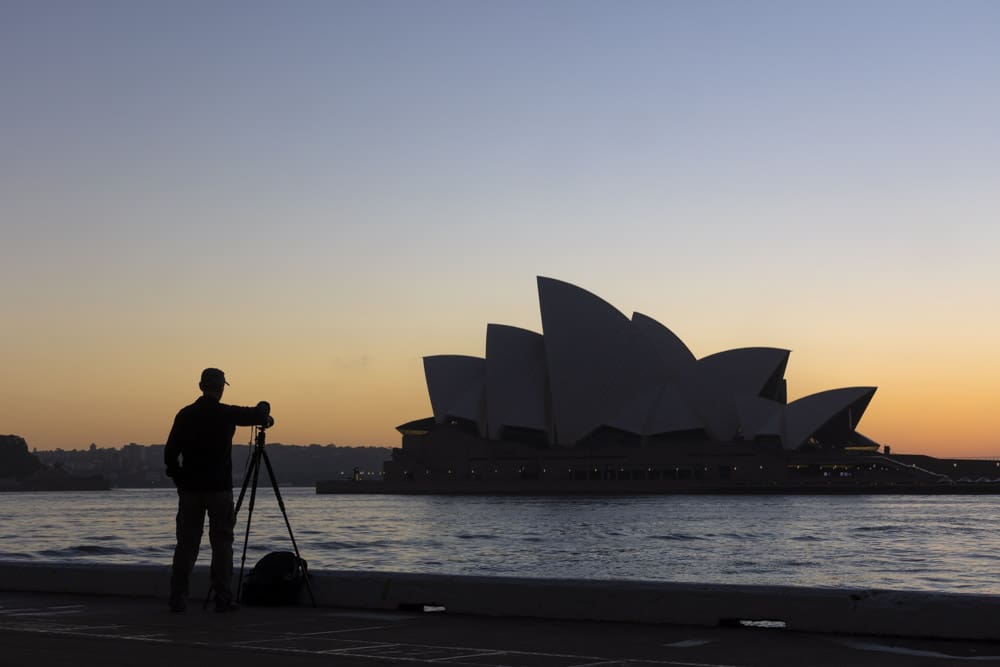 John shooting the Sydney Opera House from Overseas Passenger Terminal
[Photo: Michelle Greengo]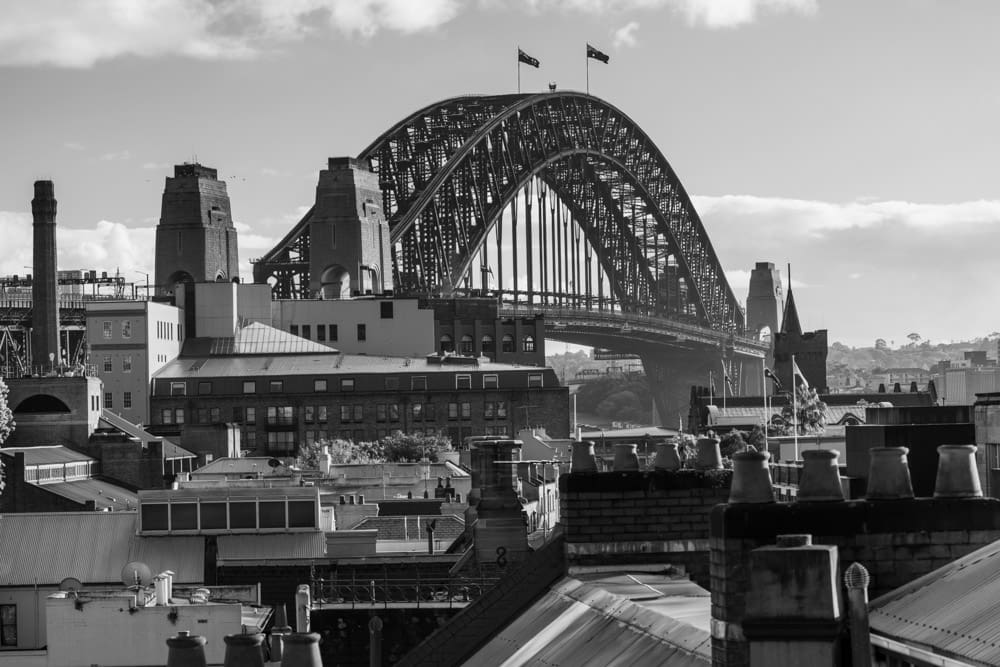 Sydney Harbour Bridge from Cahill walkway
Canon R5, RF 100-500mm f/4.5-7.1 L IS USM
ISO 400; 1/320 sec.; f/8; 100mm; hand-held
While many of my past photo tours have been to less traveled locations like Jordan, Cuba and Bhutan, I can clearly see now how Sydney will make for an equally satisfying photographic experience. This far-flung destination, for most of us, offers a quantity and quality of subjects that will keep any photographer on their toes for the entirety of their stay.
Los Angeles vs Sydney
A good reason for Sydney's diversity is due to the enormity of the city. Many know that Los Angles is a large sprawling city, but Sydney is 10 times larger in area.
One of the most compelling recipes for photographic intrigue is where land meets water. Whether it be a river, bay, or sea, the contrast of elements and open terrain make for great photographic potential. L.A. has about 75 miles of beautiful coastline. Sydney also has a coastline with Pacific Ocean, but when you add in the deep bays you get more than 150 miles of shoreline.
Sydney Harbour from Mrs Macquaries Point
Canon R5, RF 14-35mm f/4 L IS USM
ISO 100; 30 sec.; f/22; 16mm; Tripod
The many harbors, beaches, islands, and bridges all provide a picturesque landscape with a multitude of compositional opportunities. From landmark statement bridges like the Sydney Harbour Bridge to parks and pathways, you could spend a lifetime trying to capture the beauty along the shoreline.
Boats moored in Woolwich Dock
Canon R5, RF 100-500mm f/4.5-7.1 L IS USM
ISO 100; 1/100 sec.; f/8; 300mm; hand-held
The landmark of all landmarks
The iconic Sydney Opera House might just be one of the most photographed subjects in the world. Yes, it's beautiful to photograph on its own, but I've found that with the variety of terrain surrounding the Sydney landmark, there are innumerable ways of capturing your own unique composition of it.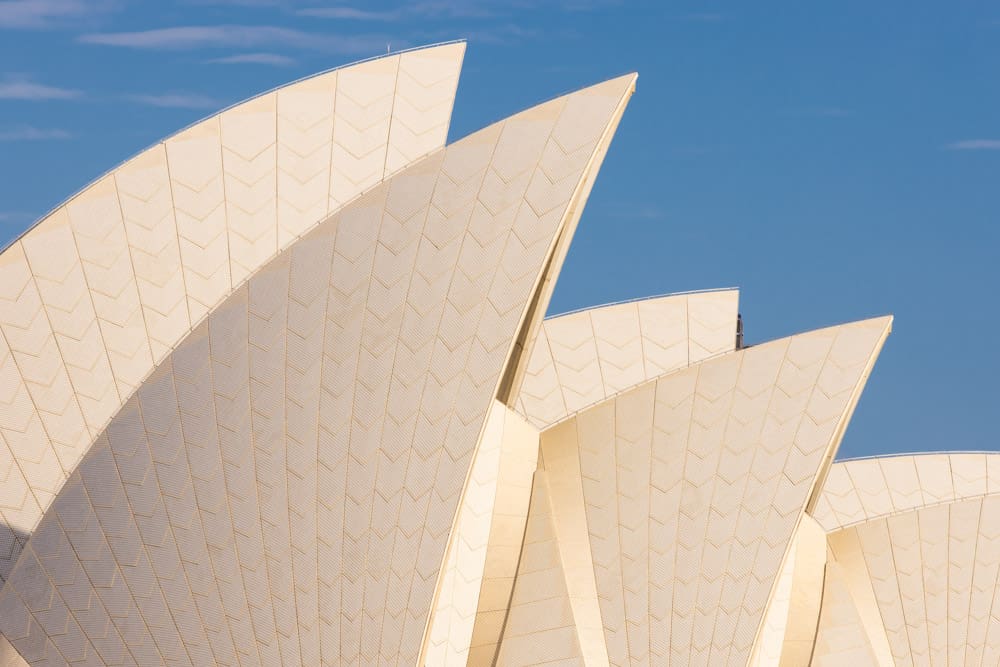 The sails of the Sydney Opera House
Canon R5, RF 100-500mm f/4.5-7.1 L IS USM
ISO 100; 1/80 sec.; f/16; 400mm; Tripod
On this particular trip I spent almost every sunrise and sunset looking for new locations where the sun and/or moon would be in just the right location. Between the north and south sides of Sydney Harbour you could fill a photo album, or hard drive with the Sydney Opera House framed and composed in a unique manner.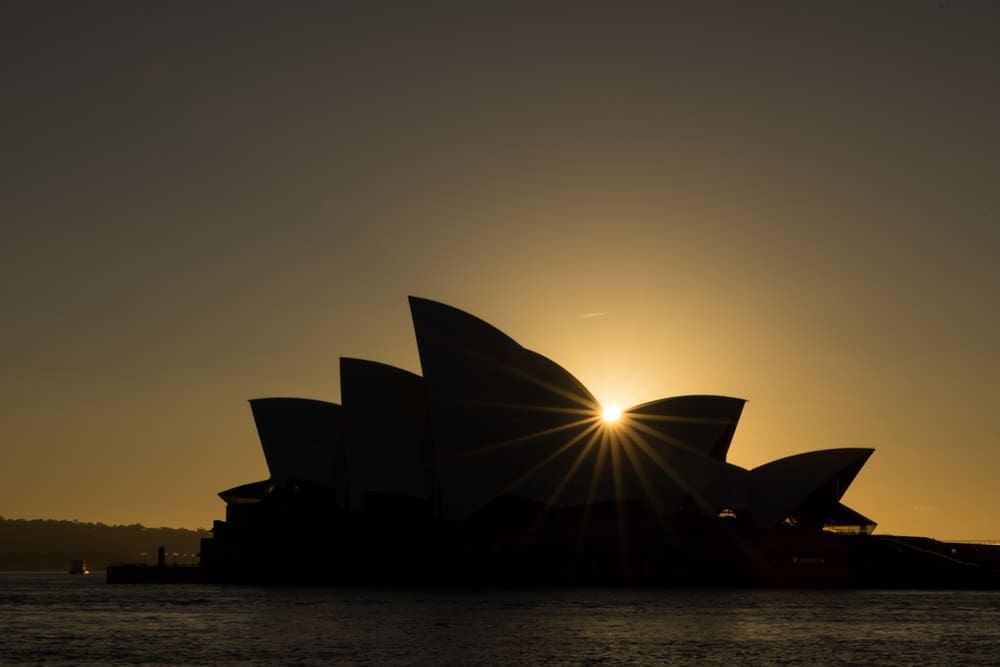 Sydney Opera House at Sunrise
Canon R5, RF 24-70mm f/2.8 L IS USM
ISO 100; 1/250 sec.; f/22; 70mm; tripod
I was working with a wide variety of lenses ranging from 14mm to 500mm and I could make use of the full range. Between compression shots with the moon and incorporating an endless supply of textured rocks in the foreground, you can use any or every lens in your arsenal.
Exploring the city
When you start to move inland the variety continues. Exploring the downtown regions you can find unusual art installations and a wide variety of architecture, both in style and age. I've always thought of Sydney as a modern and newish city, but I was surprised by the number of older buildings. Bear in mind I'm from Seattle so it may not take much to impress me in this regard. Never-the-less, the classic style added another level of interest for the architect in me.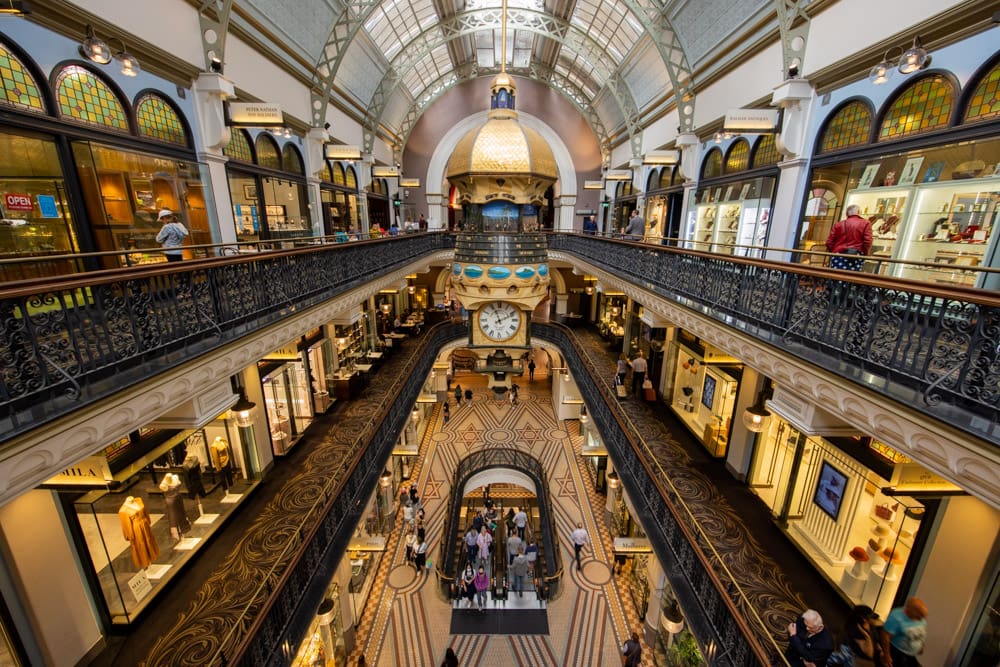 Queen Victoria Building (QVB) interior
Canon R5, RF 14-35mm f/4 L IS USM
ISO 800; 1/25 sec.; f/8; 14mm; hand-held
The friendly and safe city made for a relaxed photographic experience. Exploring the narrow walkways of The Rocks district, ducking into an alley, or staying out late into the night, I never felt uneasy. I'm sure every large city has undesirable elements, but I never had any issues no matter how early or late I was out, nor where I was.
The birdcages in Angel Place
Canon R5, RF 100-500mm f/4.5-7.1 L IS USM
ISO 800; 1/60 sec.; f/8; 100mm; hand-held
If there is a downside to Sydney it may be its popularity. While it wasn't overly packed with tourists while I was there, I could imagine how it might be during peak times. I've seen pictures and heard stories of what it can be like when the ports are filled with cruise ships.
Bird of Paradise: one of the many stunning flora displays throughout sydney
Canon R5, RF 100-500mm f/4.5-7.1 L IS USM
ISO 400; 1/640 sec.; f/6.3; 450mm; hand-held
Where are the photographers?
While I was there, I was asking myself and my wife, where are all the photographers? More than once I headed out to a prime location for shooting the Sydney Opera House (SOH) only to find myself all alone. After a few days of always getting the prime tripod location I finally came across a gaggle of photographers one Friday night at Captain Henry Waterhouse Reserve, a prime location across the water from the SOH.
Sydney Harbour Bridge from Captain Henry Waterhouse Reserve
Canon R5, TS-E 24mm f/3.5 L II
ISO 100; 30 sec.; f/8; 24mm; Tripod
On another occasion I had found the perfect spot to photograph a full moon setting over the SOH. It was a long way from the CBD (Central Business District) and I was thinking that perhaps I'd be the only one there. To my surprise there was a large collection of photographers that had the same idea. As this didn't match up with my other Sydney experiences, I discovered from one of the photographers that they were all part of an informal photography club and this just happened to be their chosen location for the week.
Full moon looming over Sydney Opera House at dusk
Canon R5, RF 100-500mm f/4.5-7.1 L IS USM
ISO 100; 1/4 sec.; f/11; 500mm; Tripod
Animals
Another prime benefit of traveling to a far-off land is the unique wildlife. Australia is certainly populated with a grand collection of endemic, unique, and photogenic animals that one can capture in the city, the bush, or in a captive environment. I kept my telephoto zoom close at hand because you never know when you'll have a Rainbow Lorikeet or Sulphur-Crested Cockatoo fly in to land right beside you.
Rainbow Lorikeet
Canon R5, RF 100-500mm f/4.5-7.1 L IS USM
ISO 100; 1/320 sec.; f/7.1; 500mm; hand-held
To make efficient use of my time I visited Featherdale Sydney Wildlife Park. In past visits to other zoos and wildlife rescue centers I've had difficulties getting clean shots due to the overuse of cages, fences and other unnatural structures. Featherdale, specialising in Australian native animals and birds, proved to be a much more opportunistic location. While not perfect, it provided more than enough good opportunities with great animals that you could walk away with a memory card full of quality images. The proximity to the animals and the lack of fences made shooting relatively easy with a modest telephoto zoom lens.
Koala
Canon R5, RF 100-500mm f/4.5-7.1 L IS USM
ISO 1600; 1/320 sec.; f/5.6; 300mm; hand-held
Cassowary
Canon R5, RF 100-500mm f/4.5-7.1 L IS USM
ISO 800; 1/125 sec.; f/5.0; 238mm; hand-held
Blue Mountains
While Sydney is a strong draw that will keep you busy for days, you owe it to yourself to leave the city and travel farther afield. A popular counterbalance to the metropolis of Sydney is the Blue Mountains. Only 2 hours drive from the city you can find yourself on a rocky overlook with a view down into a valley that seems to stretch on forever.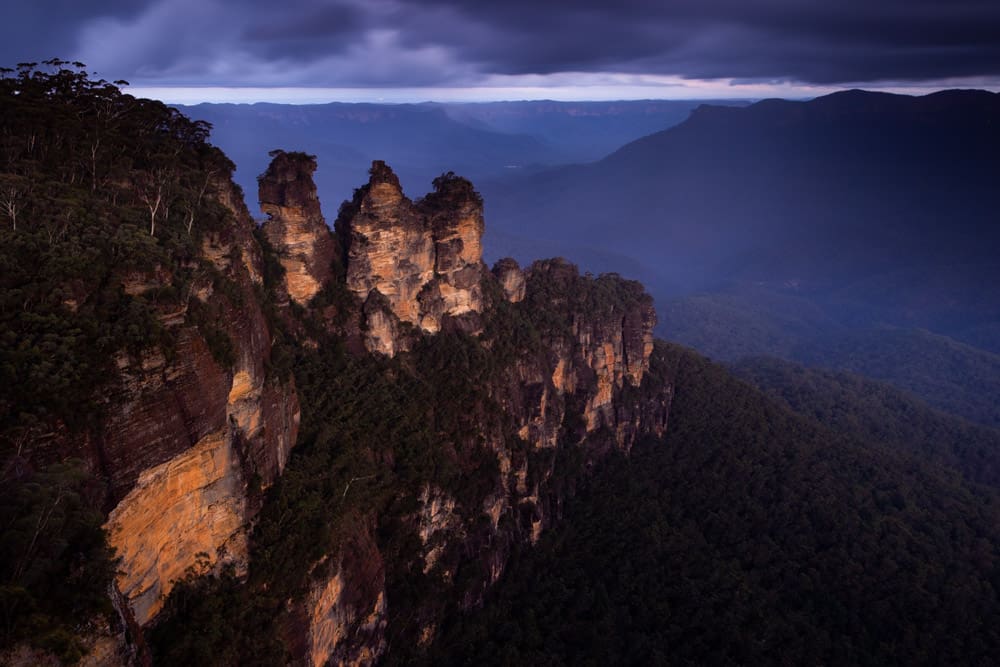 The Three Sisters & Jamison valley [Blue Mountains National Park]
Canon R5, RF 24-70mm f/2.8 L IS USM
ISO 100; 25 sec.; f/8; 32mm; Tripod
From a narrow neck of land the Blue Mountains National Park spreads off in two directions and provides waterfalls, trails, mountain peaks, and more. I scouted what seemed to be a hundred different viewpoints and trails. Coordinating my scouting trips with the sun and weather, I may have only touched on a few of the great locations, but I found more than enough to satisfy any nature-loving photographer.
View from Govett's Leap Lookout at Sunrise
Canon R5, RF 100-500mm f/4.5-7.1 L IS USM
ISO 100; 1/100 sec.; f/11; 167mm; tripod
On one particular morning at Govett's Leap lookout I left my hotel in the dark and rain. I was certain that the morning would be a washout, but since I was in motion I would continue through with the plan. A break on the horizon, a shift in the clouds, and I witnessed one of most spectacular sunrises of my life. It was a symphony of light; the ever-moving clouds allowing shafts of light to break through. The performance played out for over a half hour. The popular location had a good number of photographers on this morning, but there was room for all to spread out and find their own piece of land.
A photographic tour
Yes, Sydney and beyond will make for a spectacular tour. I don't have any of the details of the when and how, but the where is well established. This tour, like my past ones would be open to all levels of photographer and to those from all countries. It would be a tour that balances photographic opportunity and learning about the location you are in. We won't be in the classroom, we'll be learning in the field.
If you'd be interested in being part of a future Australia photo tour, let us know by signing up to our Tours list; we have some amazing experiences lined up for you. If you are from Australia, or just familiar with it and you know of great destinations that you'd like to share, we'd love to hear what you've discovered.
Stay tuned for more details because it looks like this will be a must-do experience.
---
Become part of John's inner circle
Sign up for the newsletter here – it's free.
Want to become a better photographer?
Check out John's selection of photography and camera classes here.